Post by OrochiGeese on Jan 12, 2020 2:40:43 GMT -5
"The Randolph Report"
Hello fans and welcome to the year 2020 for UBL. This is the first written report submitted online that covers a major UBL event. I'm not at liberty to say what happened but the UBL and OG-Joshi will not be able to broadcast video of our events for the indefinite future. That means it's up to me to document all that occurred for those who could not attend the events in person. Obviously, reading about the action is not quite as entertaining as seeing it live so we urge you to come down to the Peter Venkman Memorial Arena and witness our upcoming tour for yourselves. I hope you enjoy my coverage.
---
Event:
"Catalyst"
Date:
Saturday, January 11, 2020
Location:
"Peter Venkman Memorial Arena" in Westchester, New York.
We have a sold-out house and the crowd was very excited for this night to begin.
I will not that quite a number of our fans are wearing OG-Joshi shirts. While I think the majority of those fans are just showing support for the strength of OG-Joshi's return match at "ALL YOUR BASE," I think some of the fans may have mistaken tonight for a Jean-Carter sponsored event...especially due to the number of "
Cat
😺
-
alyst" signs I am seeing. No, I didn't include the emoji for fun- the fan literally drew little pictures of cats on the signs. Well, I know that Jean Carter was in attendance tonight so a number of you fans already made her night before we even got started.
The first match of the night and the entire year is for the Universal Circuit Championship. THRASH Ogawa just survived a hard-fought triple threat match at "ALL YOUR BASE" last month to defeat Tetsu Gushiken and Kurt Sanders. It is now time for competition beyond the Universal Circuit Title Tournament and the rivalries that were created as a result. THRASH's next opponent is Brandr Hoff: a perennial contender for the NEXUS Championship. Matt Rivers narrowly defeated Brandr on two occasions in 2017 and 2018. Brandr is looking to right the longboat after some disappointing losses last year as well, including the one he suffered at the hands of the new NEXUS Champion Alicia Gordon. A win to cut Ogawa's reign short would be huge for Brandr. He has also defeated the Destiny giant Matthias in the past so we know he is not someone who backs down easy to intimidation. THRASH is not the type of person to be impressed by Brandr's past feats or his viking-strong credo. I think we're about to see a match where neither man gives any ground or quarter.
Brandr comes down to the ring first and is all business. For the most part, he ignores the cheers of the fans until someone shouts out "VIKING POWER" and he raises his arm in shared enthusiasm. THRASH Ogawa comes out with the Circuit Title draped across his shoulder. He looks at the intensity of Brandr and gives a big smile. You just know THRASH is happy to have a fight with an opponent this motivated. The referee is having trouble separating them once THRASH gets into the ring. Eventually, Brandr disengages and begins war marching around the ring while THRASH walks over to the corner and smashes his head against the top turnbuckle. This isn't gonna be catch as catch can, unless they catch a
concussion
.
Universal Circuit Championship
Match 1:
Brandr Hoff vs. THRASH Ogawa (c)
The crowd erupts as the two immediately begin to brawl. Brandr swings his axe-like forearms in every angle that he can while THRASH sticks with punches, knees, and the occasional headbutt. I mean this when I say we don't see anything approximating a professional wrestling move until about 4 minutes into this match. It was all brawling and neither man showed any signs of letting up or falling down despite an onslaught from each that would put down a lesser opponent.
It's Brandr who eventually takes control of the match, but not without grabbing the initiative after THRASH slaps the taste out of his mouth. However, THRASH thought he had more time to mount a follow-up attack than he realized. After running the ropes to gain some momentum for an attempted kick to the face, Brandr scores with a huge spear!
It's Brandr's game for the next few minutes. He keeps THRASH down with sleeper holds
and
up with thunderous slams and suplexes. He even attempts a Torture Rack but THRASH somehow manages to headbutt his way out: a novel yet oddly appropriate strategy. I Just never knew THRASH had the flexibility in his neck to match the power of his head. But I suppose one of my New Years resolutions was to learn new things, so I'll send a thank you card to THRASH. However, despite Ogawa's escape, Brandr still has control and almost ends the match with a spinning powerbomb.
Ironically, that may have been the turning point despite the damage THRASH took. That is because the very fact THRASH kicked out of that move before the 3 count seemed to greatly frustrate Brandr. I even think it caused him to lose some focus. THRASH went on a run of offense, punctuated by whipping Brandr out of the corner using his long blonde mane. This enraged Brandr and THRASH was more than happy to meet his energy head to head. The two resumed their brawl from earlier, this time alternating strikes and daring the other to knock them down. It was Brandr's strength that won this exchange and he punctuated it with what many fans thought was the end of the match: The
Valhal-lariat!

We know THRASH's offensive abilities are impressive but tonight we are seeing just how resilient the new Circuit Champion is. Not many people have ever kicked out of the
Valhal-lariat
but you can add THRASH's name to the list. Brandr has now lost all patience and ability to stick to a strategy. He bellows out a war cry and sets up for a second
Valhal-lariat
. The crowd senses this one could be over! However, right as Brandr is about to deliver it, THRASH sneaks a knee into the midsection. Whether that midsection was between Brandr's upper torso and lower torso
or
was in between Brandr's legs, I'm not sure. But it
is
clear that THRASH saw this second lariat coming and baited him until the last second.
This gave THRASH the opening to immediately transition into and hit his
"Ogawa Driver"
face buster.
Not taking anything for granted, THRASH climbs the top turnbuckle and jumps with a diving headbutt to the neck!
THRASH covers and picks up the huge victory here in his second Circuit Title defense.
He then leaves the ring adjusting his own neck. A few audience members later told me they could actually hear THRASH's neck pop during this. But THRASH doesn't appear significantly worse for the wear. However, Brandr was enraged once he realized what had happened. He stormed out of the ring and to the backstage area. Another loss can't be easy for him to take, especially given how close he was to scoring a victory and earning a Championship tonight.
Brandr Hoff (X) [Diving Head Butt - 14:30] (O) THRASH Ogawa
An unusual amount of time passed after THRASH left and before the next wrestler came out. Once we saw who it was, it was clear that he was trying to avoid THRASH given their rivalry last year. Kurt Sanders walked to the ring with a suspicious briefcase (because
everything
is suspicious of his), a microphone, and a sleazy grin.
I'm not going to transcribe every promo word for word but will quote wrestlers when I feel it to be appropriate. In Kurt's case, avoiding the majority of his actual words may save us from a lawsuit.
If I have any of my own comments, I'll put them in parenthesis but Arthur asked I keep these reports concise.
Kurt says that he's made a New Years Resolution to try to be the solution rather than the problem. As a result, he comes bearing a gift for the New Year - the resolution of the controversy of who is the true UBL Champion.
(Ugh, no one asked
him
to provide that resolution)
Kurt knows that both Alicia Gordon and Corey O'Brian claim that the NEXUS Title should be rightfully theirs, but he has an easy way to make this problem go away. First, he'd like to call Alicia Gordon to the ring to congratulate
her
(his emphasis) on
her
recent victory and because he knows that that
she
is the key to his helpful plan. Alicia comes out in her ring gear. She gets into the ring very casually, given Kurt's usual antics, but she
already
looks bored.
Kurt smiles and thanks her for joining him. In his best politician voice, he says that we need clarity. Luckily, he just happened to be in the right place at the right time. About a week ago, he was taking his "daily constitutional" and happened to stumble upon something. The solution to the problem facing UBL just "fell off a truck" in front of him but he instinctively knew who its owner was. Uh oh, Kurt is opening up his briefcase and damn it...
that's
where it is!
Kurt just offered the
stolen
OG-Joshi World Championship Title to Alicia to everyone's shock and is greeted with an initial angry expression by her. He smiles and says that "now
she
can go back to where
she
belongs" (wow). And Corey can be recognized as the true UBL Champion. Alicia says "Where I belong? Why do I belong on the
other
side of this Arena rather than here given that I beat Rivers?" Kurt says that's just her "emotions talking but to think about this rationally."
Alicia takes a deep breath and smirks. She looks much calmer now. She asks why Kurt thinks he's better at this than Holly was 10 years ago? Kurt acts confused (or is not as good at playing dumb as living the part) but Alicia says Kurt is just trying to get a rise out of her. And he almost got away with it if it wasn't for those damn kids on the internet saying the same shit as him for the past few weeks. They got her ready for this. She thinks Kurt's problems are deeper than theirs though. She's sure puberty wasn't any kinder to him than it was to them but this goes beyond him wanting attention.
Maybe he's just mad at Thunder Strike stopping him from stealing the Circuit Title again at "ALL YOUR BASE" and is taking it out on her and OG-Joshi. But even if Kurt really does believe Alicia doesn't belong here, she doesn't care. The same event she won the NEXUS Title, Kurt was the first eliminated in his match and only won 1 match last year total. Kurt's opinion doesn't matter to her and it shouldn't matter to anyone else. The majority of the crowd cheers.
Kurt pushes Alicia but she shows self-control. Kurt then spits at Alicia and asks if she's going to take a swing at him. Alicia turns dead serious and says "no" but Kurt actually backs up in reaction to her intensity.
Alicia says that losing her temper now means Kurt's career is over. And while just about everyone here would appreciate that public service, there's one person who wouldn't: Kurt goes to point to himself but Alicia says "Kazuo Saji." The crowd cheers louder. Anyone who has ever wanted vengeance shares a code with each other. And that code is not to eat someone else's deserved lunch. (It's not cool to steal a coworkers lunch from the refrigerator either...let me install cameras in the break room, Drake!) That's why Thunder didn't touch Agent 1 since Corey deserved the opportunity to avenge Xander. And that's why she won't touch Kurt. She wouldn't have wanted someone else to injure Juli Krieger before she got her vengeance and she won't deny Saji his justice. (This is the most menacing I've ever seen someone display restraint!)
Alicia says that it's even easier to pass up on this opportunity since Kurt's comeuppance is going to happen sooner than he thinks. Kurt looks surprised. Alicia mentions how Thunder Strike knows more about surveillance than Kurt does about trolling. She then points to the Battle Tron and
it starts playing a video
showing Kurt and Jasper 'Santa' Woodruff stealing the OG-Joshi World Title. Alicia then says that Kurt has a major problem. Kazuo isn't the
only
one angry at him. Kurt stole from two people: Luke Kisiera, the owner of this building - and Robin Walker, the person who owned OG-Joshi at that time. And there's someone dangerous who won't tolerate that...and won't show the same restraint as Alicia.
The crowd gives a collective "ohhhhh sh*t" as we have a visitor on the stage!
As soon as Kurt sees Kyle Walker, he drops the Title belt on the floor, slides under the ropes to the floor, and hightails it out of the ring. He jumps over the crowd barrier and runs through the audience toward the exit door. (I've never seen him run so fast!) As he's leaving, Robin Walker and Luke Kisiera come out to the ramp and join Kyle.
Robin laughs and points at Kurt running. Alicia picks the OG-Joshi World Championship belt off the floor and dusts it off. Robin considers her next move then walks to the ring with Kyle and Luke. (Uh oh, I don't think Alicia and Robin have seen each other in over 10 years.) Kyle stays on the outside while Robin and Luke slowly get into the ring. Robin tentatively holds out her hand for an attempted handshake with Alicia. Alicia looks at her, then gently places the OG-Joshi World Title in Luke's hands and nods to him. Then she leaves the ring. Robin looks disappointed but understanding as well. (I think this may have been the best scenario between these two. If forgiveness is ever possible, it's still too soon.)
In the past, this space we would go to an advertisement for another promotion's event or overall product. However, in light of our broadcast limitations, and to motivate more fans to come to these shows live, I will be highlighting merchandise and concessions making an impact in the lobby. During the 30-minute intermission tonight, Pokey the Penguin-themed Corey O'Brian goods absolutely dominated the merchandise table and eww…Robin Walker-themed "Bran Muff-ins" was the top telling food item. Why
anyone
would order a high fiber item like that in a packed arena is beyond me. Luke's new arena janitorial staff is about to be put to their first test. But I think it's best we get to the ring for our second match.
At "ALL YOUR BASE." the newly minted team of "Snakes on a Plane" defeated El Exilio for the Universal Battalion Championships in dramatic fashion. Naja Mask misted Yoshirozuna in the eyes on the way to victory in what many felt was poetic justice for him injuring Barton. Since El Exilio had a strong reign, they are owed a rematch but that won't happen tonight. Instead, Naja and JET will face opponents hand-picked from another promotion by Arthur Wingate.
And what a great choice! Jimmy Nails and Mickey Grinds walk to the ring to huge applause from the crowd. They made their return to UBL back in October as they dispatched the SwashbuckLAWLers: another returning team. The Champions come out next to a very positive reaction as well. JET nods in the direction of his opponents, seemingly impressed. Naja whispers something to him and they take their time coming to the ring, likely sizing up their competition.
Nails and Grinds are multiple-time ZIP Japan Tag Team Champions and offer an intriguing comparison in speed with JET and Naja Mask. The Champs had a clear strategy against El Exilio in taking advantage of the size of Yoshirozuna but they will have to contend with two men arguably quicker than they are. While Naja Mask was once one of the most agile wrestlers, he has had to take a more deliberate pace as age catches up with him. For his part, JET Hamada has bulked up a lot. That has given him a more imposing presence and increased power to his moves but at the cost of his agility.
Naja and JET have no doubt been conducting their own tale of the tape on their way down to the ring. And now we are ready to start our match and see if Naja and JET are able to defend their newly won Championships,
or
if Nails and Grinds can add yet another promotion's Tag Team Titles to their impressive legacy.
Universal Battalion Championship
Match 2:
Jimmy Nails/Mickey Grinds vs. Naja Mask/JET Hamada (c)
I have to take more of a forest than a trees approach for reporting on tag matches, especially ones that have wrestlers that move as quickly as these four do. The two teams started out very evenly and respectful of each other. Even Naja Mask seemed to initially enjoy testing our his pure wrestling skills instead of his noted skills in chicanery against Jimmy and Mickey. The tide started to turn when JET came into the ring. While he was able to overpower both Jimmy and Mickey individually, their experience as a team showed. Although Naja was able to avoid many of their double teaming tricks, due to spending the majority of his own career as a tag team wrestler, JET was not quite as savvy.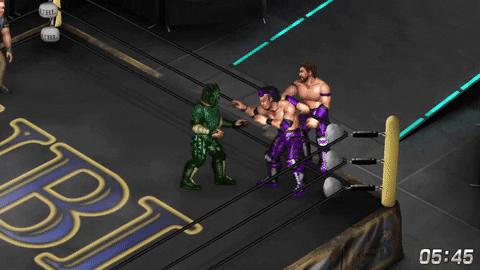 Mickey and Jimmy isolated JET and hit him with a battery of tag team moves culminating in a huge dropkick!
JET fought valiantly to get back to his corner and Mickey refused to cede the advantage. However, JET got the better of this exchange which turned the tide and showed his resiliency.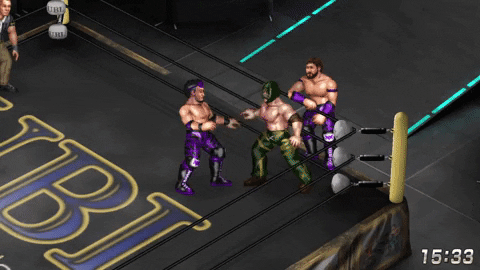 Right after it looked like JET would steal the victory in his opponent's corner, Jimmy managed to use Naja Mask's own signature stunner against him! However, as Mickey looked on, JET slammed him to the ground with a double leg takedown and almost made him tap out with a cross arm breaker!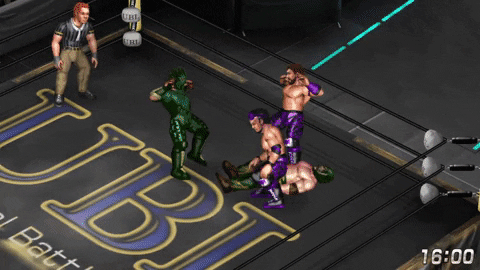 Nails fought the cross-arm breaker off but a lot of damage was done. JET wisely brought Nails over to the Snake's side of the ring and called for Naja to help him put this away. The two hit a devastating double-team cutter on Nails!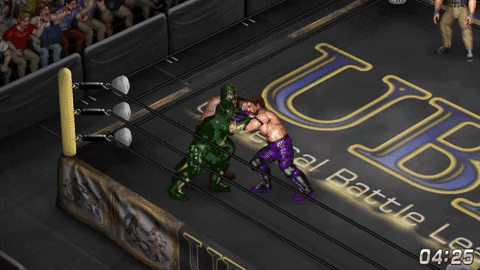 However, Mickey raced to save his partner just in time. He threw Naja to the outside and with Jimmy hit a huge double team neckbreaker that JET barely kicked out of at the last millisecond!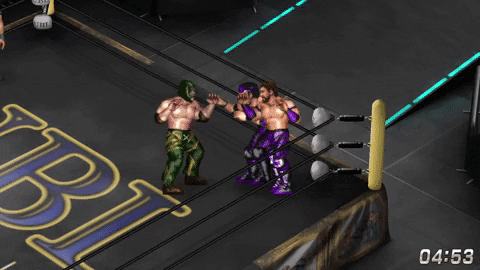 Naja came back into the ring with a huge springboard dropkick against Jimmy,. When he got up, JET was waiting for him with a modification of his sleeper suplex finisher for the incredible pin. Naja held Mickey back from breaking up the count!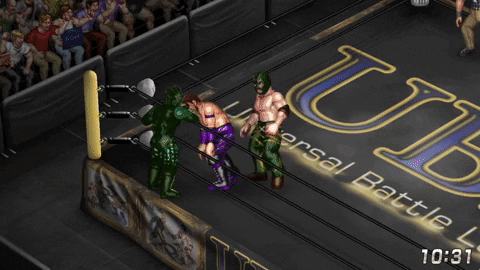 Mickey Grinds/Jimmy Nails (X) [
"Serpent Sky"
- 22:30] (O) JET Hamada/Naja Mask
I got to speak to many of the fans after the show to ask their opinions of the matches tonight. While they enjoyed THRASH/Brandr for the spectacle that it was, most preferred this Tag Team match as their favorite one of the show and even preferred it to the "ALL YOUR BASE" match. And that is for good reason as these two teams tore the house down.
This was the first time we got to see the Champions face a team that they did not have any beef with so it was interesting to see two things: 1) How much more reserved Naja Mask was in utilizing violence since the last time we saw him before he teamed with JET and 2) How much more assertive JET Hamada was in not patiently waiting for opportunities but rather creating his own. JET was just as different in the ring as Naja was but for completely different reasons. It seems like both members of this team have a significant, and positive, influence on each other. They are not
just
effective at defeating El Exilio in a grudge match, but have the tools capable of creating a long reign of their own.
After about a five-minute break, it is now time for an announcement by the owner of the UBL.
Arthur Wingate walks to the ring with his own briefcase. I'm guessing that he won't have any Championship belts belonging to
other
promotions and will conduct himself with far better dignity than Kurt did! With that, I'm going to actually quote Arthur's speech since he was kind enough to type it out for me.
[Arthur:]
"Hello everyone and welcome to a new year for UBL! I have a special announcement to make that will determine not just the course of 2020 but the future of this great promotion.
Consider tonight the first step of the
Collider
tour. Corey O'Brian was onto a wonderful idea of unifying the NEXUS Championship with the World Heavyweight Championship to leave no question as to the undisputed champion of UBL. However, I realized that we needed to go
two
steps further. The goal of this Tour is to unify
all
of the top singles Championships that UBL has
ever
had throughout the four eras that we have existed."
Arthur opened his briefcase at this point and began to pull out four belts, pausing after each one.
[Arthur:]
"The NEXUS Championship is currently held by Alicia Gordon. It was initially established during the third era of the UBL under Orochi Geese's ownership and Drake Yoshida's management."

[Arthur:]
"The World Heavyweight Championship is currently held by Corey O'Brian. It was established during the fourth era of the UBL under my ownership and control."

[Arthur:]
"The Space-Time Continuum Championship is currently held by Cosmic K*I*D. It was established during the first era of the UBL under the ownership and control of the 'Dawn of Man Corporation.'"
[Arthur:]
"The Universal Championship is not currently held by anyone. Rather, it is the reward for someone who wins a league and we have not had one since 2007. Jack Dod was the last winner. This Championship was established during the second era of the UBL under the ownership and control of Drake Yoshida.
And it is the fourth title which we will actually use to combine
all
of the titles into one. Over the next two years, we are going to have the final Universal Championship league. The holders of the other three Titles are invited and will enter their Titles into the league. The league will contain four blocks: one for each of the Champions. The two wrestlers that have the highest point total from each of those blocks will move on to an eight-wrestler tournament. The winner of that tournament will rightly be considered the undisputed UBL Champion. They will carry what is, in essence, a grand slam or quadruple crown Championship. It will formally be called the "UBL
Infinite Continuum
Championship."
Arthur pulls out a
fifth
Championship belt from his briefcase and holds it up to applause.
(Arthur also gave me a higher resolution picture to show all of you.)
[Arthur:]
"The league will start in March. As a result, the 4 existing singles titles are now frozen. No one will be defending them and each Champion will rest until the league starts. As for Corey's challenge to Alicia and her acceptance, they understand that their match may not happen unless they both advance to the Tournament and compete there. But they also realize that the stakes and rewards have increased two-fold and they are both satisfied with this plan.
In addition to Alicia, Corey, and K*I*D, I will also announce the inclusion of Matt Rivers, Joachim, and RYOMA into the league. Matt and Joachim are the two previous NEXUS Champions and each had reigns that helped define the Title. RYOMA came as close to that Title as anyone ever did without winning it and is also a legend in our tag division.
More participants will be named in the coming weeks. All wrestlers in the league will not be eligible to compete on the other shows for the duration of the tour. That means that any problems that arise between wrestlers during the tour have to wait until the league is over. They must have their full concentration on their matches. You will see the Universal Champions league taking place while the rest of the roster functions separately.
As a result, there will be
two
types of UBL events for the next two years.
Events with league matches are part of the 'Continuum Stream.'
Events with matches regarding the Circuit Title, Battalion Title, and rivalries will be called the 'Dimensional Stream.'
These two streams will collide at the end of the tour for the "United We Slam" event on December 13, 2021."
(Wait for it...)
[Arthur:]
"That show will also be called.... 'Higgs
Base-
on'"
The crowd groaned at this name but Arthur smiled.
(Maybe he's a better troll than Sanders is.
Arthur's editorial note:
I'm a better
anything
than Sanders is.)
[Arthur:]
"Thank you, I will be sure to pass on your support of that name to Barton Miller."
The crowd lets up on its negativity and cheers in respect of Barton whose injury is still fresh on everyone's minds.
(Seriously though - 'Higgs Base-On?' Did UBL secretly rename itself the Universal
Base
League?)
Unfortunately, all of this levity was sucked out of the arena as a result of what happened seconds later. A smoke bomb suddenly appeared in the ring and was apparently thrown by someone in the crowd. When the smoke dissipated, we saw a man wearing a large beige raincoat and a fedora. As Arthur continues coughing from the smoke bomb, the man carefully takes his fedora off, revealing a black wool mask. He places the fedora on one of the turnbuckles. And although he does not seem to have a visible microphone, his voice carries throughout the arena as if he gained access to the AV system.
(I learned later from Thunder Strike that this man's name is Jarec so I will designate him as such)
[Jarec:]
"It's a pleasure to finally meet the man with the most hubris in this wretched industry. Call it a collider or a particle accelerator, but only a
fool
wouldn't realize the risk of creating black holes. Of course, it's been theorized by our nation's maddest scientists, our
best
ones, that black holes may just be worm holes. And you never know
what
could come out of those. But you have two years to worry about that. Concern yourself with what's in front of you right now."
The smoke in the ring is still thick. So it is a surprise when two large men stand up. However, the bigger surprise is not just their identities, but their apparent
growth
since the last time we've seen them. Jack and Jeff Monroe appear to be an entire
head
taller than they were before!! And they are also bulging from a muscular build that could not have been achieved in the gym since we last saw them in October. Perhaps worst of all, each man's skin appears grayer than before.
Masked Man: "I believe you once knew the Monroes.
Mine
come with new tricks."
As the masked man laughs, all three of them pound on Arthur with forearms.
The crowd suddenly starts to cheer as Thunder Strike and Alicia Gordon come out to the ring!
The Masked Man beckons Thunder Strike and even howls in excitement at this imminent showdown.
Thunder and Alicia slide into the ring but are surrounded by the masked man and the Monroes.
As the masked man appears to savor the moment in front of him, the crowd suddenly erupts again.
Jakob of Furis and...wow, is that Darius!?
The former Field Leader has run out along with Furis and they get into the ring alongside Thunder Strike. We have a 4 on 3 situation but there does not seem to be a clear advantage. Thunder keeps looking back and forth between the masked man with a look of anger and Arthur with a look of concern. Alicia is ready to pounce as is Furis. Darius appears under control but looks disgusted at the Monroes. After a tense minute passes, the Masked Man slowly and calmly collects his fedora. Then he directs the Monroes to leave the ring. They escape through the crowd as Arthur is attended to by the medical staff. Thunder Strike thanks Darius and then takes a long look at Furis before thanking him as well.
For the second time tonight, Alicia finds herself surrounded by Title belts on the floor. She picks up her own NEXUS Title first. Then, after a second of hesitation, she mouths "no patience" and she picks up the other 4 Belts and puts them in the briefcase too. She holds the new Infinite Continuum Title in her hands a few moments longer than the other Titles, staring down at it. But she hands it to Arthur who is able to get on his feet and looks mostly conscious.
And with that, Catalyst comes to a close.
I'm not entirely sure what type of
reaction
was released tonight but it was definitely a volatile one!